Join us Sundays at 10 AM for worship. Attend in person or over Zoom. We also offer Sunday School and a monthly Children's Service Project! 
To receive the Zoom link or sign up for our newsletter,  use the contact form to subscribe, or email

pastor@newspiritucc.org

. We also post sermons, music, and videos on YouTube.
Welcome to New Spirit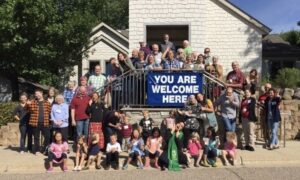 Our vision is to be a place of refuge for all desiring comfort, challenge, and inspiration in the Spirit of Jesus Christ. Our mission is to be disciples of radical inclusivity, racial, and gender equity.
If you're looking for a church home that is engaging, creative, and inviting, then come join us in worship on Sunday mornings!
We are a small church with mighty hearts. We share out loud, pray together, laugh together,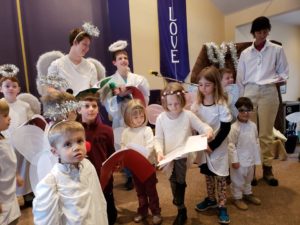 and know one another by name. The sound of children is welcome in our sanctuary where they have a pray-ground just for them. Our congregation is a part of the United Church of Christ. We are followers of the just and joyful way of Jesus, and formed from the core value that a diversity of beliefs in our religion is a strength. We are an open and affirming congregation. 
Every Sunday morning we gather at 10:00 AM for worship. We have Sunday school September through May, Communion for all  ages on the first Sunday of the month, and worship together in the summer.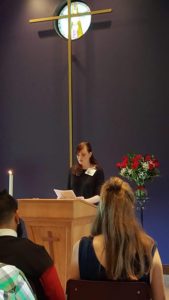 In between services we have events you can see on our calendar page, and you can subscribe to our newsletter or follow us on Facebook to stay connected.
It can be a little hard to find us if you are a using a GPS; sometimes it will put you at the Super Target nearby. After turning off of County Road 42, keep to the left on Quebec avenue at the Jiffy Lube. Come around the corner, and we'll be right there at the end of the road waiting for you. We have ample parking, and a lift elevator so that our building is fully accessible.


Because of who you are and where you are on life's journey, you are welcome here, and make this body of Christ more whole and perfect.
°
°
                                 We are a local church of the Minnesota Conference UCC .                             Learn more about our denomination, the United Church of Christ.
pastor@newspiritucc.org  ∗ Church (952) 440-7335  ∗  Facebook  ∗  Youtube
New Spirit UCC • 14394 Quebec Ave S • Savage, MN • 55378